By Susan Benton
Summer brings a bounty of wonderful tomatoes, and of those, ugly heirlooms are certainly a favorite. I grew up watching my Dad grow tomatoes, but now in his 80's and living on top of a sand dune with my mother in South Walton, he has retired from growing the sweet and juicy fruit.
I started a verti-grow system, so I'm hoping to having a nice crop myself soon! Hoping is the key word!  In the meantime, I like to purchase my tomatoes from growers that I know like at the Seaside Farmers Market.
When visiting my sister in Colorado recently, she had this beautiful tomato pie on her kitchen counter. It was for breakfast the next day, but we dove in into as an appetizer while our husbands were outside cooking steaks on the grill. You can make your own crust like she did, or use your favorite store bought for ease. Ginger used a variety of her local heirloom tomatoes in this delicious ode to summer.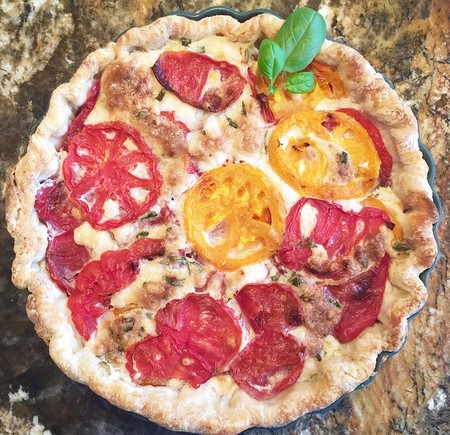 Tomato Pie
Ingredients
4 medium tomatoes, sliced
1/2 teaspoon sea salt
1/4 teaspoon ground pepper
1 regular store bought pie crust, or homemade
3/4 cup mayonnaise, I use Duke's or Hellman's
2 cups mozzarella cheese, freshly grated
1/4 cup Parmesan cheese, freshly grated
3 garlic cloves, minced
8 basil leaves, chopped (or 1 teaspoon dried if you don't have the fresh)
Tip: If you purchase pre-grated cheese it has cellulose on it and does not melt as well as freshly grated. Plus, I just don't like the thought of eating cellulose which keeps the cheese from clumping in the bag.
Preparation
Thinly slice the tomatoes and place them on a cooling rack with paper towels underneath.
Sprinkle with salt. This will allow some of the moisture to draw out.
Bake the pie crust per the instructions and cool.
Preheat the oven to 350° F.
In a medium bowl, combine the mayonnaise and minced garlic. Stir well and set aside.
Blot the tomatoes with paper towels to remove the excess moisture.
Layer 1/2 of tomato slices in the baked pie crust. Top with 1/2 of pepper, 1/2 of basil, and 1/2 of each cheese. Repeat.
Spread the garlic mayonnaise over the tomato pie.
Bake for 30-40 minutes or until the top is golden brown.
The post 30aEats.com Recipe of the Month; Summer Tomato Pie appeared first on South Walton Life | 30A News, Events and Community Information.
South Walton Life | 30A News, Events and Community Information South Walton Life | 30A News, Events and Community Information READ MORE