By Susan Benton
If you are new to the 30A scene you might not know that it's been rapidly expanding for well over a decade, as more and more people visit the area and decide to stay. I was one of those people 22 years ago, when with two babies in tow, I followed my own parents who had already settled by South Walton's salt-water's edge five years prior.
With the boom in population, and increase in tourism, 30A's shiny new culinary scene is growing in different directions and at breakneck speed, and restaurateurs — aware of the changing tastes of a more diverse clientele concerned about sustainability, healthy eating and animal rights — are choosing to add a range of vegan dishes to their menus.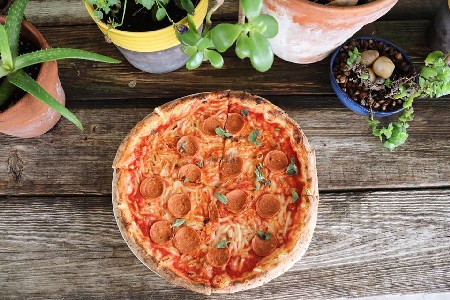 Enter 45 Central in Seaside. Chef Jim Shirley is on a mission to serve big wine and small plates in a cozy setting, while also taking the guesswork out of healthy eating. "It's comfort food for the conscience", explained Jim. Look for the label VG for vegan on his menu, then start with an order of Charred Okra served with Creole Vinaigrette for dipping, before moving on to the Veggie Roll packed with cucumber, avocado, carrots, red bell pepper, asparagus and fried garlic.
Bud & Alley's Pizza Bar + Trattoria
Pizza Bar in Seaside has always been one of my go to spots for great food and dining al fresco on the back porch overlooking the sand dunes. I was excited for my vegan friends to see they were now serving vegan pepperoni pizza (see above photo). My buddy, Elaine Parrett, longtime Seagrove resident and also my kid's former teacher at the Seaside Neighborhood School, rushed right over to give it a try. "Honestly, the crust was the best part, and I'm picky about my crust! The pizza had onions and charred broccolini which were also a nice touch. All of their pies are 11" and you can substitute vegan cheese on any of their specialty pizzas", Elaine explained.
For those active vegans that may need a pet friendly option for breakfast and lunch, Raw & Juicy has you covered in Alys Beach. You will find the most vegan offerings in the area at Jenifer Kuntz's restaurant, including salads, bowls, juices, smoothies, and hard to find baked goods. Try the Açaí bowl loaded with powerful plant compounds that act as antioxidants and have benefits for your brain and heart, that also deliver healthy fats and fiber.
For those wanting to stock their rental home or condo with the highest quality prepared vegan foods, you are in luck! Sign up for The Cultivated Kitchen's email at thecultivatedkitchen@yahoo.com, and Krissi Summerell Finch will shoot you her weekly menu. It will include directions for ordering, payment, and pick up! Try the Ginger & Turmeric Carrot Soup. It's a pureed hug made with ginger, turmeric, leek, fennel, carrot, butternut squash, vegetable broth, and coconut milk.
Sabrina and Todd Reber opened Vintij Food & Wine over 20 years ago. Their restaurant is actually where my husband and I had our first date opening month. Not officially on 30A but still a local gem of 30A foodies, Vintij recently expanded to Grand Boulevard where they serve a vegan menu for breakfast, lunch, and dinner that also includes desserts, fresh pressed juices, smoothies and cleanses. The Lucky Bowl is a favorite, also gluten free, and is packed with roasted cauliflower, new potatoes, mushrooms, garlic green beans, blistered tomatoes, shishito peppers, and served over an Asian stir fry quinoa rice. Don't leave without trying the Peanut Butter Trifle with Coconut Cream.
Did I miss your favorite? Write to me and let me know! And, check out the complete list of best area restaurants on GulfCoastRestaurants.com, my sister site!
Susan Benton is the go-to resource for foodies. She is a food and travel journalist writing from her 30A home where she raised her family for the last two decades. With published articles and photography in many local, regional and national publications, her website is 30AEATS.com where she shares her recipes, stories, and writes about the secrets of Gulf Coast food.

The post Vegan Eats on 30A appeared first on South Walton Life | 30A News, Events and Community Information.
South Walton Life | 30A News, Events and Community Information South Walton Life | 30A News, Events and Community Information READ MORE