By Josette Rhodes
Just when you think you've heard it all, along comes something that makes you say wow! Allow me to introduce B-L'Attitude.South Walton locals Josh and Tara Bohlen bring together Hip Hop Rap and Artistic Violin creating an original sound steeped in positivity.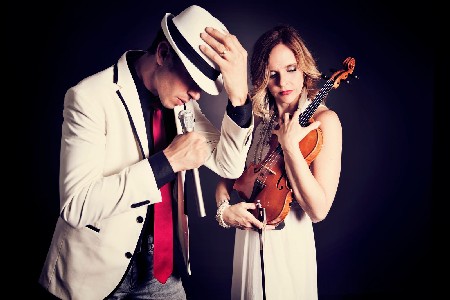 The name B-L'Attitude is a combination of four words: be, love, attitude, and latitude. Tara shared that when a person is loved it can change their attitude and give them latitude to pursue their dreams. Josh says his rhymes are meant to be positive and inspirational, encouraging people to rise above any obstacles they might be facing, thus setting them free. The duo states that there is definitely a Christian message in some of their music but their appeal and genre reaches many different types of fans.
Tara Bohlen began studying music at the age of 9 with the Suzuki Method School of Music. In 2016 she was voted as North Dakota's Favorite Instrumentalist at the North Dakota Music Awards. Tara is a music instructor with over 20 years experience and has led multiple orchestras.
Josh Bohlen got his start in inner city Minneapolis. During childhood he performed lead roles in plays, singing, dancing, and reciting soliloquies in numerous school and family shows including Harold Hill in "The Music Man" and Tevve in "The Fiddler on the Roof." Josh has performed around the United States, West, Southern, and Central Africa, Central America, and South America.
Tara and Josh are raising three daughters; Hannah, Taliah, and Sylvia. They are home schooled and all play string instruments. You can see cameos of the girls in  B-L'Attitude's music videos and as the children grow into their talent their involvement in the band will expand.
You can learn more about B-L'Attitude at their website b-lattitude.com.
The post 30A Songwriter Radio Artist Spotlight: B-L'Attitude appeared first on South Walton Life | 30A News, Events and Community Information.
South Walton Life | 30A News, Events and Community Information South Walton Life | 30A News, Events and Community Information READ MORE