By Susan Benton
Growing up, my father was always in charge of cooking the herbed beef tenderloin for Christmas dinner. We looked forward to it every year, and now the tradition of cooking the herbed beef tenderloin lies with me.
This is a very simple recipe that my parents developed, but you have to be patient and not open the oven door. If you can do that, you can make this!
I am fortunate to have my parents living near me, and we have never in my life spent a Christmas holiday apart.
Though we are now in the midst of a pandemic, and have taken every precaution we can since March, we will still plan to see each other on  masked  onChristmas day at a social distance, will share a thankful meal, and will open gifts.
I enjoy serving horseradish cream on the side of the beef, which is just 1/2 horseradish and 1/2 sour cream.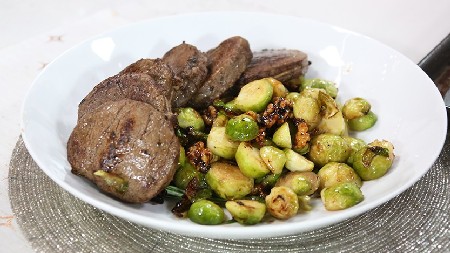 Ingredients:
1 head of garlic, peeled and coarsely chopped
1 stick unsalted butter, softened
1/2 cup prepared horseradish
3 tablespoons chopped fresh thyme
3 tablespoons chopped fresh rosemary
3 tablespoons chopped fresh sage
1 (4- to 5-pound) trimmed beef tenderloin, butt end left in tact
Sea salt and freshly ground pepper
Directions:
Preheat the oven to 500°F. In a food processor, combine the butter with the garlic, horseradish, thyme, rosemary, and sage; process to a paste. Put beef on a sheet of plastic wrap. Spread the horseradish-herb butter all over the top. Wrap in plastic wrap and let sit at room temperature for 1 hour. Place beef on rack on rimmed baking sheet and close oven door. Cook for 25 minutes without opening oven door. At 25 minutes, open the door. An instant-read thermometer inserted in the center should register 125°F for medium rare. If you like you meat more on the medium side, cook longer (30 minutes) adapting the time to your needs. Transfer tenderloin to a carving board and loosely cover with foil to rest for 15–20 minutes; the temperature of the meat will rise. Slice and serve. It will be pink and rare.
Tip: The horseradish-herb butter can be made ahead and refrigerated overnight. Let the butter soften before using.
Serves 4-6
Roasted Brussel Sprouts
This is the best sprout recipe you will find! I prefer bacon fat, but you can sub olive oil if you'd like. Simply make sure to coat each piece well so the sprouts don't dry out. Use a pan that's large enough so the sprouts aren't piled on top of each other, which ensures that they'll cook evenly. I used a large black iron skillet.
Ingredients
1/2 pound thick sliced bacon, sliced into 1/2-inch strips
1 1/2 pounds Brussels Sprouts
Sea salt
Freshly ground black pepper
Directions
Preheat the oven to 450 degrees. In a large ovenproof skillet, cook the bacon over medium heat until cooked through, about 8-10 minutes.
Remove the bacon from the pan with a slotted spoon and reserve.
Turn off the heat, add the Brussels sprouts, and stir to coat with bacon drippings.
Put the pan in the oven and roast for 10 minutes.
Remove the sprouts from the oven. Sprinkle with the bacon and season with salt and pepper.
So good!
The post 30A Eats.com Recipe of the Month; Beef Tenderloin and Brussel Sprouts appeared first on South Walton Life | 30A News, Events and Community Information.