"I love violin because it is technically blissful. My mind is engaged, my heart is engaged. It is a total mind, body, and spiritual experience."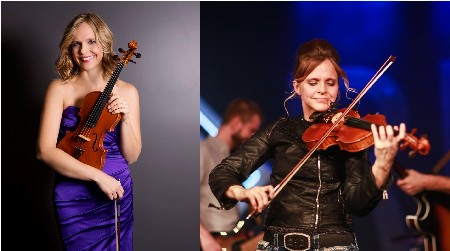 Tara Bohlen began studying violin at age eight. Her desire and curiosity for music/violin has taken her on a life-long journey. In 2001, she earned her Bachelor's Degree in Music Education from St. Olaf College in Minnesota and in 2011 received teacher training at Hartt Suzuki Institute. Tara and her husband Joshua live in Santa Rosa Beach with their daughters: Hannah, Taliah, and Sylvia who also play string instruments.
​"I have had many wonderful teachers and I am forever grateful for each person in my life who has personally poured their love of music, gifts, talents, and abilities into me."  The mentorship from a music teacher is one of Tara's favorite childhood experiences, inspiring her to be a violinist, educator, and more. Her mother was her first music teacher. Tara affirms that an excellent music education is passed down by spending time with an expert who can show you the way.
"I love sharing and communicating beauty through music to my audience." Tara Bohlen currently serves as violinist in the Panama City Symphony Orchestra. She is a recording artist in the violin rap performing group B-L'Attitude being a featured guest artist with the Bismarck Mandan Civic Chorus, TedX Music, and live in Medora.  B-L'Attitude has released music videos (YouTube) including:  Elevated Love, Heaven's Door, The First Noel, Ring Christmas Bells, and Joy to the World.  She was voted North Dakota Music Awards 2016 Favorite Instrumentalist, performed as: solo violin artist with Bismarck Mandan Symphony Youth Orchestra, member of Sonorus String Quartet, and violinist with the N.D. String Quartet.  Locally, as a freelance violinist she performs at weddings and other celebrations as a solo artist or with a group.
Tara says, "I am happy to share what I have learned. The traditional classical with the Suzuki method that I apply in my teaching, works to produce results. Plus, it is fun to repeat this process."  She says to students, "success builds success". Each time a student accomplishes a task, and is celebrated by the teacher/parent, it fuels more progress. Accomplishment builds confidence which enables them to: enter a deeper work level, experience success, resulting in joy from the learning process. This "fueling cycle" of little successes builds towards bigger successes motivating the student to keep learning."
Tara has 20 years of music teaching experience on string instruments and piano. She was formerly the conductor of the Bismarck-Mandan Youth Symphony Orchestra, director at Love Attitude String Academy teaching violin, viola, and cello, Associate Concertmaster of the Bismarck Mandan Symphony Orchestra, served as Director of Bismarck Public School Orchestras, and directed the Strolling Strings Performance Group.
"Music is a wonderful way to teach students how to love learning.  I love watching students get excited about making music and for young musicians taking ownership of musical goals.  They develop valuable discipline and habits which help them reach their goals and gain essential life skills."
Tara Bohlen says, "At the end of a teaching day, I am grateful for the opportunity to mentor students and be part of a music conscious community. I honor the dedicated efforts of students and parents who prepare for each lesson, I am overjoyed by their smiles of reward, and enjoy encouraging the student to reach for more to become the best they can be."
Since 2011, Studio 237 Music Lessons is located in Santa Rosa Beach.  Our staff of six teachers are ready to teach: Violin, Cello, Viola, Acoustic, Electric, Bass or Classical Guitar, Piano, Ukulele, Drums, and Voice.  Call Ray or Lisa at 850.231.3199 to schedule a visit, a lesson or to ask questions. Studio237Music.Com
The post Studio 237 Music School; Meet Violin Teacher Tara Bohlen appeared first on South Walton Life | 30A News, Events and Community Information.
South Walton Life | 30A News, Events and Community Information South Walton Life | 30A News, Events and Community Information READ MORE