By Marta Rose-Thorpe
If mermaids are your thing, then Sisters of the Sea & The Dive Bar on Thomas Drive in Panama City Beach  is your place!  My son Leo and I recently dined at Sisters, and from the moment we were ushered into the lively, bustling room I could see that mermaids were in our future – for at least the next hour or so.  We passed by "Bubbles," the real (human) mermaid perched on her throne and looking ever-so-gorgeous.  Photos of vintage, nautical scenes adorned the walls, and the mermaid-nautical theme was carried throughout, from candlestick holders made from upside-down wine glasses encasing sand and shells, to iron "mermaid tail" paper towel holders on the tables.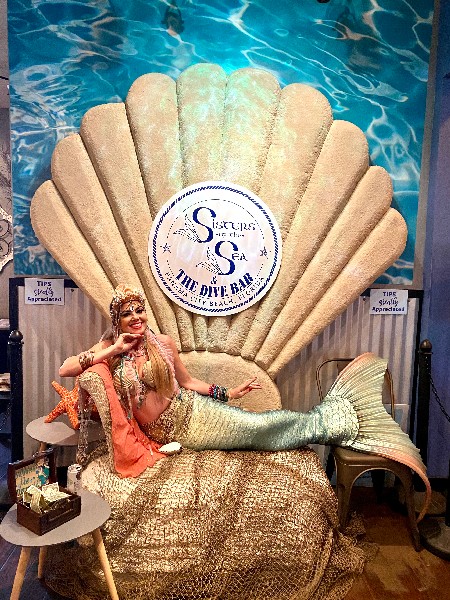 We were seated and Melissa, our server, brought drinks and appetizers from the "Social Plates" menu – "Cheese Bombs" and Sister's "Comeback Dip."  The dip was piping hot and served with tortilla chips… creamy and spicy with a slight essence of … could that be allspice?  I asked Melissa if it was, and she informed me that the dip is a secret blend of spices… "You know, mermaid stuff."  Whatever it is, it's really good, and my glass of cool, smooth Chardonnay provided the perfect balance to the heat.  The Cheese Bombs (fried cheese curds) were chewy, cheesy, and irresistible.  Leo, who usually strays away from cheese, loved them.
As we waited for our entrees, I gazed out the back window to Sisters' pool with a backdrop of St. Andrews Bay.  The effect of water on water has always dazzled me.  The charming "tin roof shack" by the pool, with a bar and DJ underneath, were in full swing, tunes jamming as the bartenders prepared for a private gathering that evening.  The effect was rustic and islandly… and I was transported to the Caribbean.
Dinner arrived!  I ordered one of Sisters' specialties, "Sisters Grilled Seafood Platter" with a filet of mahi, shrimp and scallops, served with "Cadillac Grits" – creamy and delicious, topped with creole cream and bacon – and crispy okra.  Leo, my land-lover, ordered the "Pirates Cove Burger" with cheese and hickory bacon, and a side of fries.  Other interesting-looking options include three kinds of pasta: "Blackened Chicken Pasta" with garlic parmesan cream, "Pasta NOLA" with shrimp, chicken, Conecuh sausage and spicy creole cream, and "VooDoo Shrimp Pasta" in a roasted garlic cream.  Other seafood offerings include grouper, oysters, and mussels, and a "Full Steam Ahead" menu that includes snow crab, royal red shrimp, peel & eat shrimp, and North Atlantic lobster.  Feel like a taco?  Try a blackened mahi, seared tuna, or fried shrimp taco.  Feeling adventurous?  How about a "Big Easy Po' Boy" with shrimp, oysters, or alligator?  Sisters also serves a variety of fresh soups and salads for those watching their mermaid figures.
The portions at Sisters will fill you up – but don't overdo it because four fantastic desserts await you!  Their signature dessert is Fried Strawberries served with chocolate mousse; Sisters also serves a creamy and tart Florida Key Lime Pie, Nanner Puddin' Cheesecake for banana pudding lovers, and Chocolate Trifecta Cake for chocolate fanatics.
Sisters of the Sea is open for lunch and dinner Monday through Thursday from 11 a.m. to 9 p.m.; Friday + Saturday from 11 a.m. to 10 p.m.; and Sunday from 10 a.m. to 9 p.m.  "Sunday Funday Brunch" takes place from 10 a.m. to 2 p.m. and features a creative Bloody Mary menu, Bottomless Mimosas for $15.99, and a craft Champagne Cocktail menu.  Brunch offerings include (but are certainly not limited to) Belgian waffles, shortcake, breakfast bowls, benedicts, briskets, burgers, and seafood omelets.  Sisters of the Sea & The Dive Bar "Where Mermaids are Real!" is located at 3901 Thomas Drive in Pirates Cove Marina on beautiful Grand Lagoon.  Sistersofthesea.net
The post Restaurant Review; Sisters of the Sea & The Dive Bar appeared first on South Walton Life | 30A News, Events and Community Information.