Rock United, presented by Gulf Power Company, is back for its second year as a virtual event! This singing competition and fundraiser features Okaloosa and Walton counties' most talented musical artists in head-to-head competition.
Money raised during Rock United will benefit United Way Emerald Coast (UWEC), a local volunteer-governed organization that works with corporate and nonprofit partners to fight for the health, education and financial stability of every person in Okaloosa and Walton counties. Last year, the competition raised more than $50,000! This helped UWEC impact over 26,000 individuals by serving 213,000 meals, providing safe shelter to 177 individuals, and supporting 733 students through tutoring and academic after-school programs.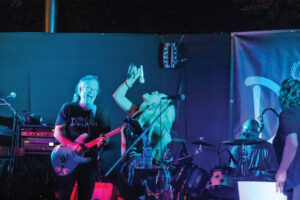 Previously an in-person event, Rock United went virtual in 2020 due to the COVID-19 pandemic. While many bands were struggling to secure in-person gigs due to restrictions, this virtual competition became a safe way to boost spirits, promote local musicians, and raise money to support the most vulnerable members of our community. This year, Rock United returns with a new group of the Emerald Coast's most talented artists who will compete for $2,500 and the opportunity to perform at the Sound Waves Music Series featuring Cole Swindell at the Gulf on Okaloosa Island. Several local businesses have also contributed to the grand prize including a photoshoot with Blacksuit FM Photography, a digital billboard feature from TierOne Media, studio recording time with the Immanuel Music Project, and a custom t-shirt package from Fresh Prints of South Walton.
Contestants will face off in a single-elimination tournament, advancing through the bracket as fans vote by contributing to the Rock United fundraiser. The winner of each match-up will be based on the amount raised during that round, each $1 counting as one vote.
Rock United officially kicks off this August and the final rounds will conclude in mid-September. Follow the Rock United Facebook Page (@RockUnitedUWEC) for the latest updates and to view contestant music videos. Vote for your favorite artists at united-way.org/rockunited.
Visit united-way.org to learn more about United Way Emerald Coast, and how you can get involved to make a difference in our community.
The post Rock United Rocks! appeared first on South Walton Life | 30A News, Events and Community Information.