By Lori Leath Smith
"This was a righteous fight—a fight for truth. There's God and truth. I couldn't have faced this without God and the truth."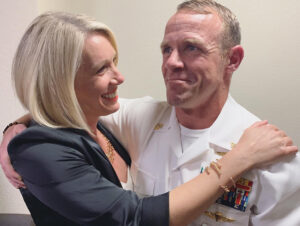 When local resident and retired Navy SEAL Chief, Eddie Gallagher, was suddenly arrested on September 11, 2018, at the medical facility where he was receiving treatment for traumatic brain injuries, he had no idea why. "We were told to take you to prison," said the authorities. Eddie kept saying, "This is a mistake," completely confused.
Little did he know at the time that he and his wife, Andrea, would be in the fight of their lives the next 10 months. He was taken to a military brig and held in solitary confinement without being told what he had been arrested for or how long he would be there.
Eddie joined the Navy at age 19, his dream to become a U.S. Navy SEAL. For almost 20 years, he served as a Navy Corpsman, Marine Scout Sniper and, yes, Navy SEAL earning a stellar reputation along the way. Eddie deployed eight times, including to war zones in Africa, Iraq and Afghanistan. In 2014, Eddie "Chief Gallagher" was named the Sailor of the Quarter and then Sailor of the Year for NSW Group One (all West coast-based SEALs).
During his career, Eddie was awarded two Bronze Stars with V for Valor, Meritorious Unit Commendation, Presidential Unit Citation, two Navy Commendation Medals, three Navy and Marine Corp Achievement Medals—one with V for Valor and five Good Conduct Awards. On his last combat deployment to Iraq in 2017, Eddie led a platoon to successfully defeat ISIS in Mosul. For his performance and leadership, he was highly commended upon returning home. He was named the #1 Navy SEAL Chief, nominated for a Silver Star, and slated for promotion to Senior Chief. He was then awarded a coveted training billet for his 'twilight tour' as a SEAL.
However, despite this record of success and impeccable reputation, Eddie would spend nine months in prison largely being denied medical treatment, access to legal counsel and regular visits. In the initial few days of his arrest, he knew he was in a very different fight. A turning point came two months later during a phone call with Andrea when, "We both realized that the only people that could fight were us. I gave everything to God and was willing to accept His outcome," says Eddie. "And at that moment, I literally felt a weight lifted off my shoulders—I had a peace knowing God was taking care of me." Andrea's faith led her to acknowledge they were going through this ordeal for a reason and should listen to God. From that time on, they did. Eddie says being locked up puts you in a darker place mentally. "But, over 100 different times, God showed me this would be o.k." And he tried to keep his mind in the right place by serving. "I was able to mentor some of the younger guys by doing workouts with them. I could really see a difference in them."
Andrea fought tirelessly to raise awareness about the injustice they were facing. "She took all of her professional knowledge and applied it to me while also taking care of our three children and everything else. She is my hero," says Eddie.
In the end, Eddie was proven innocent and acquitted of all serious charges. "The amount of people that supported us was amazing. People like Bernie Kerik, former NY police commissioner, were very influential in helping us," says Eddie. "And I was continually praying. I even prayed that God would have the president step in."
The magnitude and terror of the ordeal that Eddie and his family went through will never leave them. "We learned how broken the system is, that our service members and first responders can be unfairly and unjustly targeted, and how vital outside help can be in fighting back against this kind of corruption," says Eddie.
So, Eddie and Andrea have founded The Pipe Hitter Foundation (pipehitterfoundation.org), a non-profit dedicated to support men and women in both the military and law enforcement who are facing similar injustices. "The Pipe Hitter Foundation is committed to defending the rights and freedoms they risk their lives to uphold."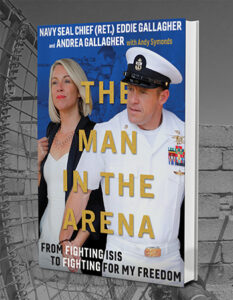 They have also written a newly released book, The Man in the Arena. The book features never-before-revealed details of Eddie's experience fighting for his freedom. He holds nothing back when explaining how and why he feels several malcontents in his SEAL platoon conspired to frame him for war crimes. Eddie also explains exactly what happened that May afternoon in Iraq when after a fierce battle with ISIS, a terrorist was brought to the SEAL compound for medical aid and died in their care. Andrea wrote several chapters from her perspective, comparing Eddie to the Old Testament's Joseph, who was betrayed by his brothers and sold into slavery in Egypt.
Their book has already become a "Best Seller" on Amazon, number one in several categories, and the number three bestselling book overall (order on Amazon.com. You can also purchase signed and personalized copies at eddiegallagherbook.com if you can't make the event.
"We didn't want to play the victim—we learned and grew from the situation; it was a nightmare, but we want to turn it into a positive. Not playing the victim role will serve you well. I now have more of an appreciation of being around my family and a whole new outlook on life. We're just moving forward…" –Eddie Gallagher
The post The Man in the Arena appeared first on South Walton Life | 30A News, Events and Community Information.