When it comes to a coastal contemporary design, there are very few people who know how to put it together better than Marisol Gullo of Not too Shabby. Marisol has owned and operated, Not too Shabby by Marisol, located in Miramar Beach, and Inlet Beach FL.
There's not much that Marisol can't do when she puts her mind to it. An attorney by trade, she moved to the area over twenty years ago. She is the 2017 South Walton artist of the year, and an accomplished interior designer who has personally built and designed over ten homes here for herself and family. Marisol and Tony had a very large construction company before opening their stores.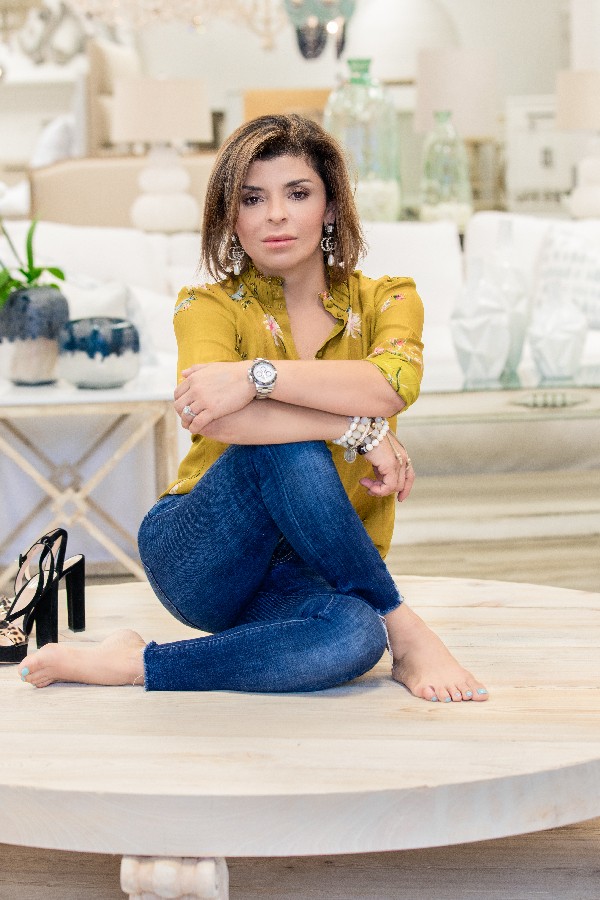 When we caught up with Marisol, we wanted to ask her a few questions about what she felt were some of the important aspects about designing a coast home. This is what she had to say. "The most important thing I tell my clients is that we want to design a beautiful, yet relaxed setting. I always convey to them that we are not going for Beachy, we are doing Coastal, and there happens to be a big difference." "It's not easy to move to a specialized area like we live in and expect that you will be able to put the look together right away or without a designer from our area, and that's why our clients come to us. And with our construction background, it is very easy for our clients to be able to hand over the entire project to us" says Marisol.
"Think about that for a minute, the fact that we can not only design and furnish the entire house, but we also handle the entire remodel if necessary. That makes life so much easier for our clients to be able to have their entire project, regardless of how big or small, all done through us instead of having to go and find a builder and then also have to find a designer as well. We do it all" she said.
The retail shops and showrooms continue to provide Marisol with her own source of furnishings and accessories, but they also serve other designers in the area. "We welcome both homeowners and other designers who shop with us," says Marisol. "We are very fortunate to have a large warehouse – people can see things, and get things quickly. The women usually know what they want when they see it, but the men in particular want to sit in the actual chair before committing to it!"
When asked if she and Tony had any plans on opening a third location, she laughed and said "you know, between the Miramar and Inlet locations, we've pretty much have it covered no matter where you may live, whether it be Pensacola, Destin, Santa Rosa Beach, or Panama City Beach, it's never more than a short car ride to be at one of the stores. We've never really been concerned about being the 'biggest.' We've always just cared about being the best that we can be." Whether you visit Not Too Shabby in Inlet Beach or the Miramar Beach location, it won't take long for you to fall in love with the unique style of design by Marisol Gullo.
Not Too Shabby, 9755 Highway 98 West, Miramar Beach, 850-419-3976.
30Avenue Design Studio, 12805 Highway 98 Unit P201, Inlet Beach, 850-520-2390. Nottooshabbybymarisolgullo.com
The post Spotlight on Marisol Gullo of Not Too Shabby  appeared first on South Walton Life | 30A News, Events and Community Information.