By Marta Rose-Thorpe
Dining at The Grand Marlin always feels like a celebration. A trifecta of delicious food, great service, and a cozy, alluring atmosphere bustling with neighbors and friends abounds. On a recent Friday night, my husband and I enjoyed a multi-course dinner served by Hunter, a soft-spoken, very nice and extremely knowledgeable server who was happy to share any and all details of the menu with us. It was 6 p.m., and the place was hopping. Hunter started us out with a refreshing cocktail from the bar. I enjoyed the Lemon North Drop made with Hanson Meyer Lemon Vodka, raw sugar, and a squeeze of lemon. Pow! Shebang! Crisp, cold and sour-sweet, with a lemon twist. My husband tried the PCB Bushwacker made with white rum, coffee liqueur, crème de cocoa, vanilla ice cream and a 151-rum float. This seemed, for all practical purposes, like starting the meal with dessert, though he loved it and likened it to a thick, frozen Reese's Peanut Butter Cup.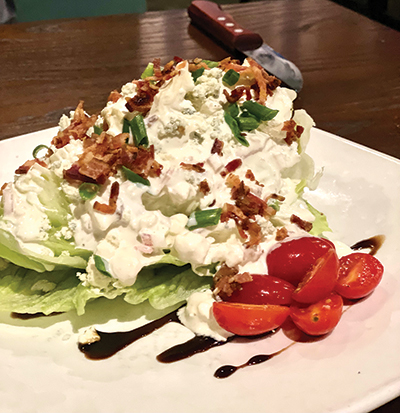 Hunter began our feast with soups and a salad. The Seafood Gumbo was the traditional variety… quite heavenly, with just a whisper of heat. Chopped oysters, crab, okra and andouille sausage were mixed into a dark roux, floating above two savory, tender, chipotle-marinated shrimp. A plate of Gambino's French Bread from New Orleans accompanied the Gumbo, lightly toasted with house made garlic butter. The She-Crab Soup is a classic, rich and delicate in flavor. Local blue crab meat is folded into a thick cream and sherry fusion, and drizzled with a beautiful pale green chive oil. Our Iceberg Wedge salad was a menagerie of tastes and textures, simple and light but so flavorful! Iceberg lettuce was topped with crumbled applewood smoked bacon and a creamy, blue-cheesy, bacon-infused dressing, sprinkled with scallions and sweet grape tomatoes. After soups and salad came one of The Grand Marlin's favorite appetizers: Crispy Lobster Fingers. "Fingers" of firm, juicy Maine lobster were lightly fried, sprinkled with chopped chive batons, and served with a vanilla bean honey mustard.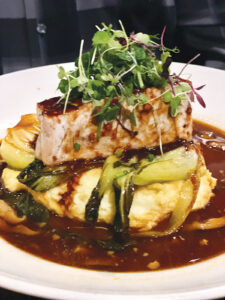 By now we were feeling pretty satisfied, but the best was still yet to come. Hunter explained that the three most popular entrees at The Grand Marlin are the Grouper Picatta, Maryland Lump Crab Cakes, and Ginger Soy Yellowfin Tuna, and we got to sample all three. Each dish had its own flavor palate and was perfectly paired with accompanying side vegetables. The Grouper Picatta came coated in a thin parmesan crust, topped with flash-fried crispy capers, served alongside sauteed spinach and whipped potatoes… a sensory explosion! The Maryland Lump Crab Cakes were nearly all crab – juicy, meaty and wonderful, served with a colorful roasted corn relish and a creamy mustard butter sauce. The Asian-inspired Ginger Soy Yellowfin Tuna consisted of a rare tuna steak drizzled with spicy ginger soy glaze, served alongside baby bok choy, shiitake mushrooms and wasabi whipped potatoes. A glass of DiBacco Pumpee red wine, spicy and full-bodied, was the perfect base to our diverse and luscious meal.
For dessert we enjoyed a Bailey's Coffee (The Grand Marlin's tasty coffee is a full-bodied, medium roast bean) with two signature dessert favorites: Key Lime Pie and TGM's Praline Basket. A light and creamy Key lime mousse was poured into a toasted coconut and macadamia-infused graham cracker crust, then drizzled with raspberry coulis. The Praline Basket was a heavenly concoction of large, plump blackberries inside a homemade praline shell, topped with vanilla ice cream, candied pecans, and chocolate and caramel sauces. Both were decadent and unforgettably scrumptious.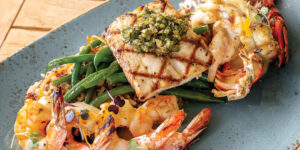 The Grand Marlin, located at 5323 N. Lagoon Drive in Panama City Beach, has a great selection of wines by the glass, bourbon's, whiskey's, scotches, and both craft and domestic beers. Their full bar boasts signature martini's, island cocktails and seasonal specialty drinks.
Hours are 4 to 9 p.m. Monday through Thursday, 4 to 10 p.m. on the weekends, and Sundays from 10 a.m. to 9 p.m. Sunday Brunch features (among many items) Prime Rib, Bananas Foster French Toast, an array of Omelettes and Benedicts, and $2.50 Bloody Marys and Mimosas.
For dinner reservations, more information and to view the full menu, call (850) 249-1500 or visit thegrandmarlin.com.
The post Restaurant Review: The Grand Marlin appeared first on South Walton Life | 30A News, Events and Community Information.