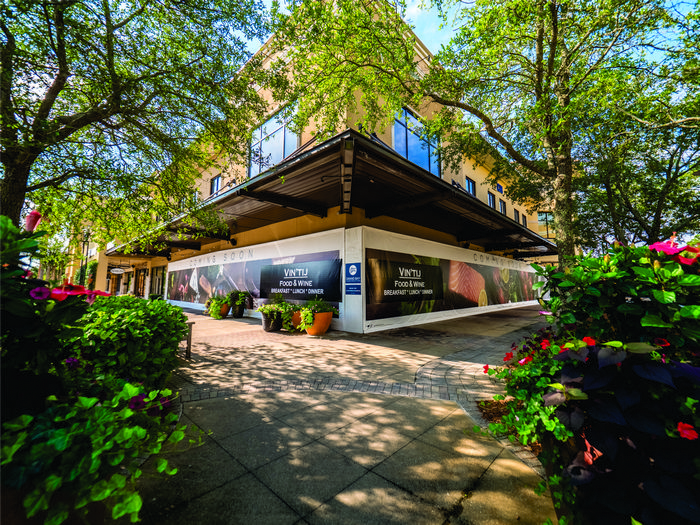 Vin'tij began its humble beginnings in 1998 in a strip mall across from Silver Sands Premium Outlets. At that time, Highway 98 was underdeveloped and there were not many places to rent in order to establish a new restaurant concept. Todd and Chef John knew there would be tremendous growth in the area, but they felt that this location, even though it was in a strip mall, would be advantageous due to the amount of people visiting the outlets. Turns out, they were right! Due to Chef John's consistent, flavorful food and Todd's passion towards wine and customer service, Vin'tij became known as the diamond in the ruff.
However, as years progressed, and the growth of the area developed quickly, Todd wanted to grow the Vin'tij concept into a new direction. He began seeking out a new location where he could not only serve lunch and dinner but also breakfast. He also wanted to include a cold pressed juicery into his new concept. He and his wife had been juicing for years and loved reaping the health benefits of juicing at home. They wanted to offer their high vitamin, high mineral and enzymatic rich juices to their community.
As they began to dream up the new Vin'tij Food & Wine concept,Chef John was also dreaming up something new. Instead of cooking fish, Chef John now wanted to catch fish, be in nature, and bring the fishing experience to fisherman who were traveling from around the world. Chef John, while continuing to work at Vin'tij, started taking people out on his 7wt Charters in his spare time. After working indoors as a Chef for over 30 years, the outdoors was rejuvenating and healing for him. It was at this time that both Todd and John knewthey both needed to follow their hearts, and grow in different directions.
The new Vin'tij Food & Wine concept will move forward with Chef Steven Vanderpool, who was the chef and partner of the original Cuvée Beach restaurant which opened in 1999. Chef Steven will bring forth a new energy and culinary style to the Vin'tij menu,however he has been working with Chef John to also maintain the quality of the Vin'tijcult-favorite menus items -such as the Oyster BLT, Shrimp and Grits and Blue Cheese Grape Tart.
After Chef Steven worked at the original Cuvée Beach, he moved to Texas where he spent many years working as the Executive Chef for a variety of highly acclaimed restaurants.He became extremely sought after as a restaurant consultant in the Texas area forthosewho were wanting to start up new restaurant concepts, but needed help with kitchen design, menu development and training. His experience is very well rounded and his expertise in the preparation of seafood is to be admired. Vin'tij is very excited to bring him back to the area to help grow the Vin'tij concept into the next decades to come.
Although Vin'tij Food & Wine will have a new location in Grand Boulevard at Sandestin, a new chef, and a new opportunity to serve breakfast and cold pressed juices – a lot of things about Vin'tij will stay the same. We can't wait to open our doors in August to show everyone the new, exciting Vin'tij Food & Wine concept.
South Walton Life | 30A News, Events and Community Information South Walton Life | 30A News, Events and Community Information READ MORE