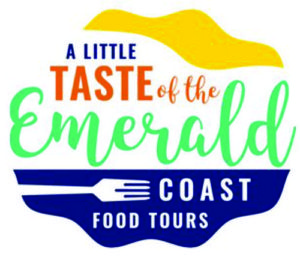 A new way to experience the area's vibrant culinary scene has come to South Walton.  A Little Taste of the Emerald Coast, founded by Abbe Little, has launched two guided food tours; one that travels through Miramar Beach and another that highlights the western end of Hwy 30A. Guests also have the option to customize a private tour that best suits their needs, which may include stops at locations that aren't on the public tour. A Little Taste of the Emerald Coast is the first tour of its kind to come to Walton County. "My mission is to complement each guest's happiness while making their taste-buds happy too," A Little Taste of the Emerald Coast Founder, Abbe Little said.
Each tour is designed to highlight the incredible culinary scene available along the Emerald Coast while also providing guests with information on the rich cultural history of the area. Karaoke and other optional amenities are also available on the shuttle bus to enhance the patron experience.     
"I began visiting the Emerald Coast area 20 years ago with a very dear friend who recently passed after a courageous journey with breast cancer. She's my inspiration for this venture while my sister is the catalyst for the idea," Little said.  "We would have what we called our 'progressive 30A day' and stop at various restaurants within the different beach communities for a tasting. This later evolved into my husband and I's favorite date. We'd make a list of new restaurants to try and select one item to try at each location. After working for a Fortune 500 company for 18 years, I decided to change my career path to fit the lifestyle I wanted. Through my passion for this area, its culinary scene, and meeting new people, A Little Taste of the Emerald Coast was born."
The Hwy 30A West tour includes stops at The Perfect Pig, Local Catch, Grayton Beer Brewpub, and Trebeaché. The Miramar Beach tour includes stops at Mezcal, Acme Oyster House, Ocean Club, and Christiano's. Vin'tij Food & Wine will join the line-up this fall following the opening of its new location in Grand Boulevard. All tours are held in partnership with Sunshine Shuttle with owner Abbe Little as your guide. Tours are approximately four hours in length, must have a collective minimum of six guests and can accommodate parties as large as 15. Tickets are $109 per person and include all transportation, guided experiences, and tastings at each restaurant location. Guests are welcome to bring their own cooler on the bus with their favorite beverage and cups will be provided.  For more information on A Little Taste of the Emerald Coast, please visit emeraldcoastfoodtours.com.
The post A Little Taste of the Emerald Coast brings guided food tours to South Walton appeared first on South Walton Life | 30A News, Events and Community Information.
South Walton Life | 30A News, Events and Community Information South Walton Life | 30A News, Events and Community Information READ MORE